Fato Profugus 
Documentary
by Pietro Bonfanti, Italy 2022
with Luì Angelini, Paola Serafini, Erica Rondi, Ilaria Poleni, Giulia Leuzzi, Francesco Venturi, Francesco Zanatta, Mamady Borio Saliou, Md Faruk, Alamin Shake, Rajon Mia, Muslam Uddin
Direction, editing, filming: Pietro Bonfanti – Photography, filming: Fabio Corbellini – Music: Tivitavi, Danielle Griselda – Audio mix and sound: Daniele Torri – Color correction: Stefano P. Testa – Graphics and animations: Anna Banfi – Translations from Bengali: Hoque Md Sayrful, Igor Orifici – Butoh costums : Silvio Betterelli – Produced by Pietro Bonfanti and coproduced by ORION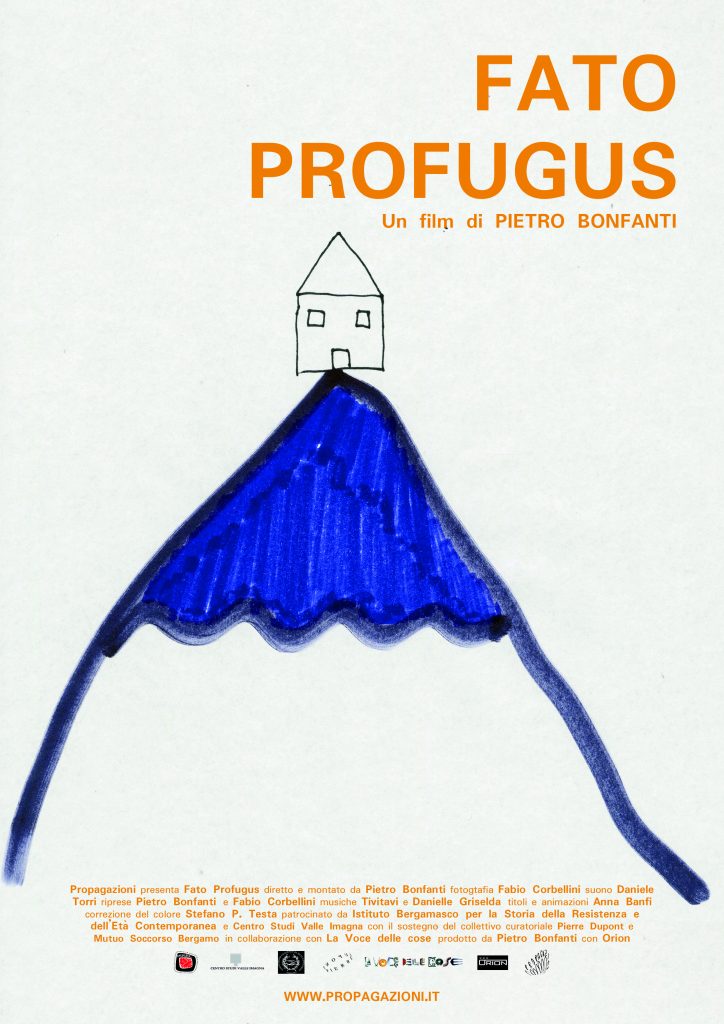 Synopsis:
This documentary retells and interprets the experience of the Extraordinary Reception Centre in Vedeseta (BG) and was created with people who worked or lived inside the Centre and artists from different disciplines. It gives an interweaving of testimonies, performances and re-enactments produced in the rehearsal room of the theater company La Voce delle Cose and in the homes of some asylum seekers who moved to different cities in Italy after leaving the CAS. From the now concluded experience of the Vedeseta Centre a winding narrative path emerges that reconnects biographical and cultural trajectories.
π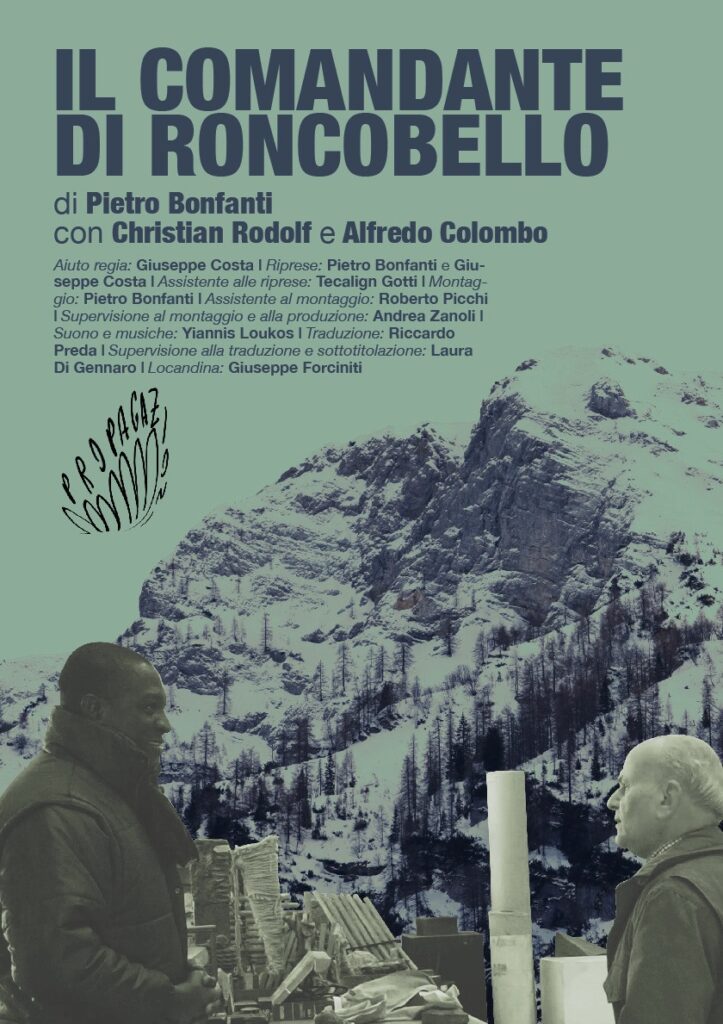 The Commander of Roncobello
Documentary
by Pietro Bonfanti, Italy 2018
With Christian Rodolf and Alfredo Colombo
and with Yousef Naili, Francesca Mangini, Kone Zoumana, Yaya Diomandé, Rodrigue Belinga, Bassindou Kamagate, Ibrahim Sangare
Director, editing, shooting: Pietro Bonfanti – Director assistant, shooting: Giuseppe Costa – Music: Yannis Loukos – Shooting assistant: Tecalign Gotti – Editing assistant: Roberto Picchi – Supervisor production: Andrea Zanoli – Produced by Pietro Bonfanti, thanks to Lab 80 film
Synopsis:
Christian Rodolof is an Ivorian asylum seeker, who spent a year in the upper valley of Roncobello (BG) in the Extraordinary Reception Center (CAS) for asylum seekers. During the CAS period, he writes a manuscript about young African emigrants, in which he traces the stages of his migratory journey to Italy and his point of view on some political and colonial issues in Africa. The documentary is not directly inspired by the contents of the book, instead it explores the context in which the book was written and the reasons behind its writing. The film is shot in Roncobello, in the places connected to the life of the CAS but also within the studio of the artist Alfredo Colombo, who Christian meets for the first time during the shooting. The study of Colombo, a place of creation and conservation of the matter, thus becomes a theater of reflection and historical claim and research, starting from the experience of war.
π